5,460 Miles from Silicon Valley – A Business Biography
May I introduce Sinéad Quirke Køngerskov with whom I will work to translate the English version of my recent book Fra Damgaard til Microsoft (5,460 Miles from Silicon Valley).
Sinéad is an academic and archaeologist turned English Language Specialist (perfect for a biography!). Her areas of expertise include archaeology, architecture, business literature, children's books, dance, education, financial English, history, leadership, lifestyle, literature, marketing and promotional material, psychology, social sciences, tourism, yoga and arts and culture. She is a fellow member of the Danish Author's Society and has several successful translations under her belt.
She is of Irish origin and came to Denmark through an archaeological project studying how the Vikings made it to Ireland in the eleventh century. Onboard a true reconstruction of a Viking ship, she made the voyage from Roskilde to Dublin and, despite their somewhat disturbing reputation, she fell in love with the chief Viking, married and moved to Denmark (where the Vikings do not raid).
I am looking forward so much to working with Sinéad on producing an English version of the book.
About 5,460 Miles from Silicon Valley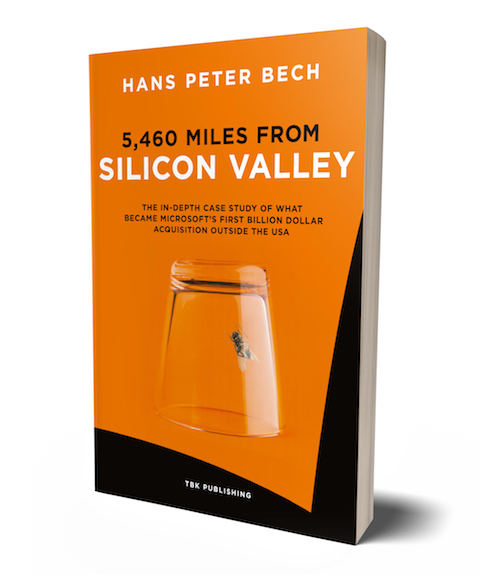 5,460 Miles from Silicon Valley is a book about Damgaard Data, a company set up in 1984 by two Danish brothers, 22-year-old Erik and 21-year-old Preben Damgaard.  Ten years later, the company had an annual turnover of USD$20 million and employed over 100 people.  In 1994, with the objective of bringing the company's products on to the global markets, IBM, then the world's leading IT company, bought into Damgaard Data.  But nothing went according to plan.
In 1998, Erik and Preben bought out IBM's share of the business and, in October 1999, Damgaard Data was listed on the Copenhagen Stock Exchange.  Within three weeks, its value soared to nearly USD$1 billion (much supported by the dot.com bubble).  Unfortunately, the excitement was short lived.  Only a few months later, at the beginning of December, a sudden drop in revenue sent the share price plummeting.  The company's principal competitor, Navision Software, soon suffered a similar fate and the two companies decided to merge under the name Navision. The goal was to re-establish market trust by once again producing impressive growth and earning rates.
The strategy worked. In May 2002, Microsoft acquired the merged company for USD$1.3 billion.
The book, over 500 pages long, is a detailed account of the history of Damgaard Data and of Navision Software with whom they merged in 1999. Based on more than 120 interviews with the main players, employees and other people connected to the company, as well as on research into more than 1,000 internal and external sources, it is an in-depth analysis of the grit, perseverance and more than a little good luck necessary for entrepreneurial success.
Anyone interested in the corporate world or simply in a fascinating real-life story, is sure to enjoy this remarkable tale.
The book illustrates the conditions and challenges facing a company seeking growth and success in the world's most turbulent industry. It reveals situations and describes episodes into which the public has never previously been given insight.  It contains many surprises and debunks several myths about what determines commercial success.
SaveSave
SaveSave
SaveSave