5,460 Miles from Silicon Valley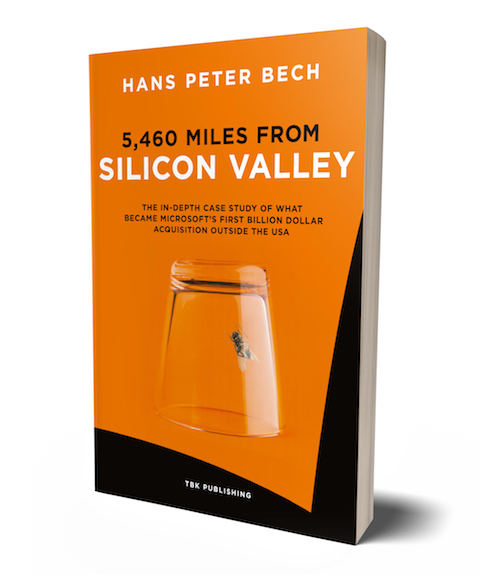 In July 2002 Microsoft made its largest acquisition at that time. They acquired the Danish ERP-software company Navision for USD $1.45 Billion. How did Navision – over the course of just 18 years – manage to achieve such a valuation?
My business biography 5,460 Miles from Silicon Valley (The In-depth Case Study of What Became Microsoft's First Billion Dollar Acquisition Outside the USA) tells the full story.
The Danish title is Fra Damgaard til Microsoft
Damgaard Data + Navision Software = Navision
The Navision that Microsoft acquired was the company created by the merger of two competitors Damgaard and Navision Software, which was completed in December 2000. That company started off as NavisionDamgaard, but by March 2000, the name had changed to Navision.
From little acorns…
5,460 Miles from Silicon Valley tells the story of how Erik and Preben Damgaard got off the ground in 1984 and how they developed Damgaard Data to reach close to USD $1 billion market capitalization by November 1999. From 1985 Navision Software (named PC&C until 1995) was their primary competitor and the two companies practically shared the Danish mid-market for ERP-software leaving very little room for other vendors. Then something unexpected happened, and a merger with Navision Software became the solution.
Apart from becoming very valuable in monetary terms, Damgaard Data also became one of the most respected companies to work for. They managed to create a culture that could cope with the rapid changes in the market, self-adjust to the shifting requirements of customers and resellers and provide their staff with ample room to grow and prosper. Both Damgaard Data and Navision Software were role models of how to create value for all stakeholders: shareholders, customers, resellers, employees and the community.
The book will be published in Danish on September 1st this year and will follow in English and German in 2018. (More languages is a matter of funding only. Let me know if you are interested.)
In the author's study
In a series of posts, I will invite you inside my study and share with you how the book project started and what happened during the 3 1/2 years it took to complete. It was no simple undertaking, requiring a lot of sacrifices and always testing my patience and persistence.
For whom have I written the book?
5,460 Miles from Silicon Valley is a business biography (544 pages) written for anyone with a curiosity for what happens behind the curtains of a true business success. Nothing is like it seems on the surface. You may say that the book is a well-documented case story of how to start, develop and grow a business and make a successful exit in the most turbulent industry of all: Information Technology.
SaveSave
SaveSave
SaveSave