How to Deliver Winning Proposals – Part 5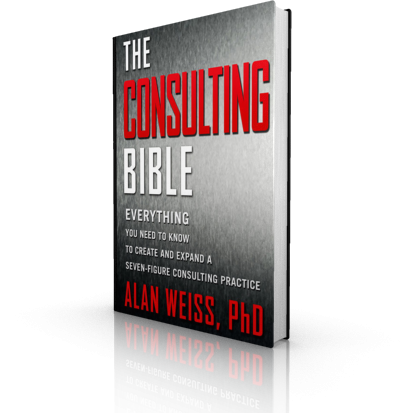 In this series of posts I am sharing why at the beginning of my consulting career I lost too many proposals and what I have done to fix it.
There are several reasons why I am winning more business today than 10 years ago.
The first and foremost reason is that my client base has grown. Repeat business from current clients is good business.
My reputation as a software industry growth expert has been confirmed. My list of clients and the amount of literature I have written on the subject are bringing new inbound opportunities in at a steady rate.
However, the most prominent reason that I am more successful is that I write fewer proposals and walk away from the unqualified opportunities much earlier than I used to. I waste much less time on people that I don't want to work with and projects that I assess will never happen on equitable terms and conditions.
The credit for bringing my experience into a structured format goes to Alan Weiss. It was reading his book "The Consulting Bible" that converted my hard earned experience into an actionable framework for my own consulting business.
In "How to Deliver Winning Management Consulting Proposals – Part 4" I laid out the structure of the proposal:
The structure of the winning proposal
The winning proposal has a very simple structure:
1. Situation Appraisal
2. Objectives
3. Metrics
4. Value
5. Methodology and options
6. Timing
7. Joint Accountabilities
8. Terms and Conditions
9. Acceptance
Situation Appraisal
The proposal starts with a short recap of the current situation and the challenges facing our client. Framing the challenge in a competitive context is fine, but making lame repetition of statements from the client's web site is meaningless. Including a phrase explaining the consequence of doing nothing (as you have learned from you conversations with the client) is recommendable.
Sample
EuroCompany is the leading provider of healthcare IT products and services in [name of country] with some 450 healthcare IT specialists delivering products, solutions and services across several healthcare sectors. The company enjoy market shares of over 50% in all their domestic vertical markets.

In order to secure sustainable future growth EuroCompany must generate business from international markets.  International market penetration has been going on for several (>5) years, but has so far produced no results. Local players currently dominate the individual international markets for health care solutions. However, over the last 10 years, competitors, especially from the US and Germany, have been able to break into foreign markets, winning public tenders while competing against the local players.

Local markets all have their idiosyncrasies, which the solutions and go-to-market approach must support. However ≈75% of the requirements are the same for all markets.  Meeting local market requirements is crucial for winning projects and it is critical to find the optimal approach for matching the investments in market compliance with the probability of winning the first projects.

In the fiscal year 2015 EuroCompany must prove that they can get access to international markets (starting with the South European markets), thus creating the basis for substantial revenue growth in the subsequent years.

If EuroCompany fails to demonstrate international traction, it is very likely that their position in the domestic market will be at risk too. Global players with large installed customer bases will gain competitive  advantage and may out-compete EuroCompany as has happened to local players in other markets.
The situation appraisal reflects both an opportunity that must be gained, but also a severe threat that must be counter measured.
By the way:
You can ask why this particular client hasn't taken action before?
Most companies are victims of the "boiling frog" syndrome.
With a profitable business in the domestic market there seems no immediate urgency for international expansion. There is a pipeline of international projects and although they keep loosing them there are always new opportunities being added. The necessary organizational changes and investments are not made as the domestic market opportunities keep getting the lion's share of the management attention and resources.
The call for action normally gets triggered by some external event.
Other posts in this series
How to Deliver Winning Proposals – Part 1
How to Deliver Winning Proposals – Part 2
How to Deliver Winning Proposals – Part 3
How to Deliver Winning Proposals – Part 4
How to Deliver Winning Proposals – Part 6
How to Deliver Winning Proposals – Part 7
How to Deliver Winning Proposals  – Part 8
How to Deliver Winning Proposals – Part 9
How to Deliver Winning Proposals – Part 10
How to Deliver Winning Proposals – Part 11
How to Deliver Winning Proposals  – Part 12