MapsPeople – Showing the way to the global markets
---
This post is an excerpt from my book, Going Global on a Shoestring. The book includes a number of fresh case stories of which MapsPeople represent what I call The Virtual Global Business. A Virtual Global Business doesn't need remote offices to serve customers in other countries.
---
The problem
Finding the fastest route from where you are now and being guided to where you want to go next is a problem that we all recognise. Route planning and navigation systems that offer the solution to this problem are technologies that have matured and been commoditised dramatically since the US-government in 2000 released accurate GPS signals for civilian use. Today, navigation services are available in the dashboard of our cars and as apps on our smartphones. Most of us use them on a daily basis, but they all stop delivering their magic when we reach the outer perimeter of our destination.
And that is a problem.
Finding your way in a building or a set of buildings can be a real challenge. Whether it is locating a specific shop at a factory outlet, finding the place for your MR-scan at 11:30, making sure you're at the podium in the conference room on time to deliver your keynote, finding your way to the gate for your connecting flight and avoiding your name being called on the airport intercom, or locating the desk in the office that is available right now and for the next four hours.
Actually, it's not much of a help if your navigation system brings you to your venue in time only to let you down on the final mile of your journey.
The solution
MapsPeople, a Google Maps Partner (reseller) headquartered in Aalborg in the northern part of Denmark, has the solution framework for this challenge. The category is called Indoor Navigation and their platform is named MapsIndoors.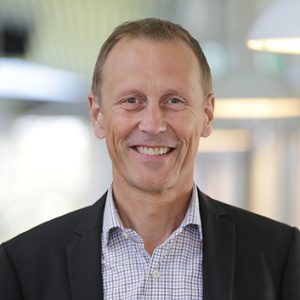 "Finding your way in shopping malls, airports, hospitals, sports venues, corporate headquarters, educational institutions, public buildings, convention centres, campsites and other places outside the reach of GPS signals and Google Maps can be frustrating and time-consuming," says Michael Gram, CEO and founder at MapsPeople. "The information required for a remedy resides with the individual venue owner. Providing indoor navigation is not difficult, but it requires an initiative and a budget for each case."
So far most of the 60 customers with a total of over 250 venues covering more than 18 million square meters located in Azerbaijan, Belgium, Colombia, Denmark, Finland, France, Germany, Hungary, Ireland, Italy, Japan, Netherlands, Norway, Romania, Russia, Switzerland, Spain, Sweden, UK and USA have found MapsPeople.
Approximately sixty per cent of revenue is generated outside the domestic market.
"We have invested in inbound marketing activities and receive around 100 leads a month from all over the world," Michael Gram explains. "However, we believe there is a much bigger market out there and have started to build an outbound marketing and sales team."
The AARCV (Average Annual Recurring Contract Value) is USD 30.000 and the expected lifecycle of a site is currently estimated to be five years. The average sales cycle is four months with a spread from one month to a full year.
A purchase decision involves several buying centres in the customer's organisation, but it is seldom the IT-department that is the project owner and the key decision-maker. A PoC (Proof of Concept) is often the last step of the buying process and MapsPeople have designed a standard PoC for which they charge USD 6.000.
"The drive for an indoor navigation solution primarily came from people caring for the customer experience or for optimising the travel time within the venue," say Michael Gram. "An RoI analysis of indoor navigation always shows very attractive results, but the return is seldom in the form of cash into the same budget that pays for providing the service. For most corporations and government institutions that represents a challenge. The exception being seat and space allocation in corporate headquarters and other large office venues where the utilisation improvement delivered by indoor navigation immediately translates into saved cost."
The software is only one element of the final indoor navigation solution. A map of the venue with a list and specification of destinations must be made. As GPS doesn't work inside buildings, a different positioning technology must be used. There is a range of options available such as beacons, Wi-Fi positioning, positioning via magnetic fields and via lighting.
MapsIndoors can be interfaced to any of the above and the most suitable indoor positioning technology depends on the venue type and on the solution requirements. Finally, the solution normally gets integrated with some other key user services which the navigation and routing facilities support.
When you combine your indoor way-finding solution with indoor positioning technology, you unlock a whole range of added benefits such as "Find nearest". As MapsIndoors is based on Google Maps you get complete and real-time routing to your final destination. You also gain insight into how people move around your venue and can send customers and visitors push-notifications based on their current location.
Internationalisation
Most of the current customers have been sold to and served virtually and, so far, it doesn't seem as though there is a need for meeting physically with the customers. Sales, implementation and project management can be operated remotely using conference calls, web-meeting and other collaboration technologies. However, going forward, MapsPeople would prefer to build an ecosystem of ISs, OEMs and VARs.
"We prefer serving the market through ISs, OEMs and VARs, not because we have difficulties finding customers," says Michael Gram. "It's because we need someone to deliver the auxiliary services from a time zone close to the customer and in her local language."
The indirect go-to-market strategy is based on the ambition for achieving global market leadership and is meant to make scaling the global rollout faster. Finding these partners has proven difficult and, so far, most of the customers have been handled directly by MapsPeople.
"We have hired pre-sales staff that master the main languages and that have increased the conversion rates considerably," Michael Gram explains. "We will continue to go down this route and will cover Europe from our office in Copenhagen and North America from our office in Austin, Texas. As soon as we see solid demand from Asia, we will establish an office most likely in South Korea, Singapore or Japan."
With the investment in outbound lead generation activities, MapsPeople are convinced they can generate the critical mass of projects required to keep partners busy and justify the employment of dedicated resources for indoor navigation projects.
"The Indoor Navigation market is taking off just now," Michael Gram concludes. "We are investing in the commercial infrastructure to take the major share of this growth and are convinced that the ISs, OEMs and VARs will show increased interest and commitment when the project volume picks up."
---
This post is an excerpt from my book, Going Global on a Shoestring.