One of the Best Documented Entrepreneurial Case Studies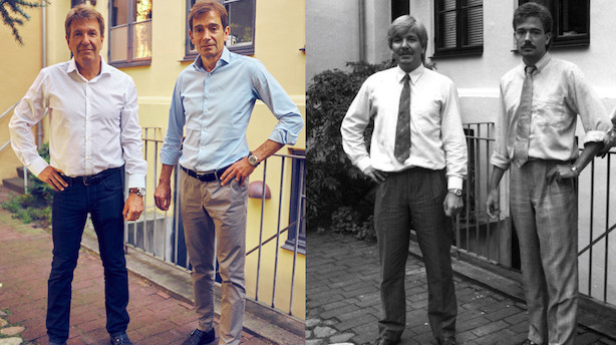 The story of how the brothers Erik and Preben Damgaard started their small software company in the basement under their parents' house and in 18 years created a company for which Microsoft paid over $1.45 billion, has, with the book 5,460 Miles from Silicon Valley, probably become one of the world's best-documented entrepreneurial case stories.
Erik Damgaard got the idea for Danmax (a single-user financial management app for microcomputers) from HERA-SOFT for CP/M (developed by a carpenter operating out of his home in Southern Zealand, Denmark). Erik's mother helped him understand how an accountant worked in the 1980s, where most businesses had not yet been introduced to EDP (Electronic Data Processing). Danmax matched the accountant's jobs-to-be-done very closely. Only one week after the launch at the Office & Data Fair in the autumn of 1984, Erik and Preben had sold 40 packages at $3.000 a piece. This corresponds to over $200,000 in today's prices.
You might call that "a hole in one"!
5,460 Miles from Silicon Valley, which was published in June 2018 (translated from the Danish Fra Damgaard til Microsoft), describes the development of the IT industry from the mid-1980s' until the beginning of this century, when the dot com bubble exploded and inflicted some of the world's biggest losses on the investor community. If we think that today's technological development is running faster than ever, the book reminds us that this development started over 40 years ago.
Damgaard merged with Navision Software in 2000 and became NavisionDamgaard. In the spring of 2001, the company changed its name to Navision.
It was under highly unpredictable industry and market conditions that Damgaard Data and their Danish competitor Navision Software started, built and grew their businesses. They developed almost the same products for the same type of customers but took very different go-to-market and leadership approaches. The book tells what results they achieved and how they were achieved.
The road from the fast start in 1984 to Microsoft putting 1.45 billion dollars on the table in June 2002 was long and winding for both companies. There were numerous others who started similar companies in the 1980s who never managed to get off the ground or cross the chasm.
What made Damgaard Data and Navision Software so successful?
The products from Damgaard and Navision Software today form the core of Microsoft Dynamics 365.