The Path From Business Development to Marketing and Sales
---
If you are a business developer, then you do not have a sales target, because your job is not to generate revenue. Your job is to discover the value proposition which a sufficiently large number of customers will buy into over the coming 6 to 24 months.
---
I suspect that the term "revenue generation" is foreign to many.
Nevertheless, it is gaining more and more ground as the collective term for the processes any company must identify and nurse to make sure they reach its revenue budget.

In the ideal world, customers will find our amazing products themselves and beat a path to our door to place orders.
That is a world the fewest companies recognise.
Many companies are entirely unknown to potential customers, they are not easy to find, even when you actively search on Google, and should you find them, it is difficult to understand what they are doing.
Therefore, many companies' revenue generation efforts remain based on proactively reaching out to potential buyers and trying to start a sales process.
The great conceptual confusion
When most start-ups stumble and close shop, it is because they fail to find a match between their idea and an urgent and critical need in the market before they run out of money.
Finding that match is called business development, but is often confused with the activities of marketing and sales. If you do not know the difference between the two concepts, then there is a high risk that you will try to sell your idea to the wrong customers or the wrong version of your idea to the right customers.
Business development is a series of activities where, in dialogue with potential customers, you discover the match between your product and a market, which you in a next step can package into a repeatable marketing and sales effort.
If you are a business developer, then you do not have a sales target, because your job is not to generate revenue. Your task is to discover the value proposition that a sufficiently large number of customers will buy into over the next 6 to 24 months.
The challenge is that you cannot trust customer feedback if they are not under decision pressure. You, therefore, need to simulate that you want to sell them something, even if that is not your primary objective. Your primary goal is to get honest feedback on your value proposition. Is it perfect, can it be adjusted to fit the customers' needs or do you not want to sell to that type of customer right now?
Also, companies that are far past the start-up stage are struggling to find a model that can ensure predictable revenue generation. They conduct marketing activities, have salespeople working with potential customers and update the CRM systems with new forecasts. But they do not deliver on their budgets and do not understand what needs to be repaired. Is it the marketing department that generates too few leads, or are the leads the wrong ones? Is it the salespeople who are not skilled enough? Is it the competitors who have overtaken us? Is the market a bit sluggish at the moment?
The missing link was found in Denmark
The challenge of finding the right product/market fit, which can subsequently be put into a system and scaled, is a well-known challenge with which virtually all tech companies around the world struggle.
Suppose you have a business development or revenue generation process that relies on calling out to potential customers. In that case, you will experience colossal waste and a hefty portion of rejection.
It is not uncommon for telemarketers to spend more than half of their time calling on people who do not answer. Of the people answering, only a tiny fraction will be interested in a conversation. Some are downright hostile, some are too busy right now, and others are genuinely uninterested. Adding up the numbers, a telesales person spends less than half her time talking to someone who is showing some interest.
Finding and retaining employees for this type of work is difficult, and the staff turnover within telesales is consequently around 50 per cent.
However, help is on its way.
Stefan Avivson has started the company BMoreRaw, which specialises in finding product/market fit and then helping companies get their revenue generation systematised and scaled.
He is not the first to claim that he can do that. When I think he is on to something, then it is because he has managed to take a large portion of the human factor out of the equation and wrap a systematic framework around the activities.
There are several steps in BMoreRaw's approach to the challenge, so let's take them one at a time.
Start internally first – Ask everyone in the company who works with business development, marketing and sales why customers buy. Please write it down. Be prepared that it points in all directions and that you must invest considerable effort getting them translated into genuine value propositions.
Ask the customers – BMoreRaw now contacts the customers and asks the same question. Here, too, we get several answers that need to be consolidated and categorised.
Choose the best match – Compare the two sets of value propositions with the company's customers and choose the best combinations.
Test the best combinations on new customers – BMoreRaw now tests the selected combinations on behalf of the client and finds the most effective.
Scale the effort – With the refined product/market match, you can systemise and scale the revenue generation process.
Outbound lead generation is not for the faint-hearted
"No matter how you approach it, outbound lead generation is not something everyone can just do," explains Stefan Avivson. "There are products that are so uninteresting that no one will talk to you. There will always be a certain proportion of contacts who react negatively or whom you catch at the wrong time. Nevertheless, we can prove that our approach is effective. You get more customers, more revenue and better contribution margins when you follow the BMoreRaw model".
According to Stefan Avivson, one of the reasons for the better results is that many companies do not have the skills to run outbound lead generation and that they are, therefore, in any case, better served by outsourcing the task.
"How many people do you know that have the courage and desire to call on people they do not know and try to sell them something?" Stefan Avivson asks rhetorically. "Not many people have that. Therefore, you can not just hire a couple of part-time students, and expect them to do the trick."
Operating an effective outbound lead generation activity requires management skills, recruitment capacity, training, coaching and volume. Teams of less than ten people become too dependent on individuals and cannot build the culture that such an operation requires. Going from zero to ten employees within a discipline that is often not the company's core competence is for many a big and risky undertaking.
Stefan Avivson acknowledges that he improves his productivity by rejecting clients who have simple commodity products. That type of market is so pervasive that customers are impossible to engage. He also acknowledges that his organisation has a black belt in the process, but stresses that he too only boils with water.
"Of course, companies can build an in-house lead generation department and use our method and software," emphasises Stefan Avivson. "They need to have the necessary management skills, hire the special types of people who can handle the task and quickly reach critical mass. My point is that many companies that have to start from scratch can benefit substantially by leaving it to people like us."
International business development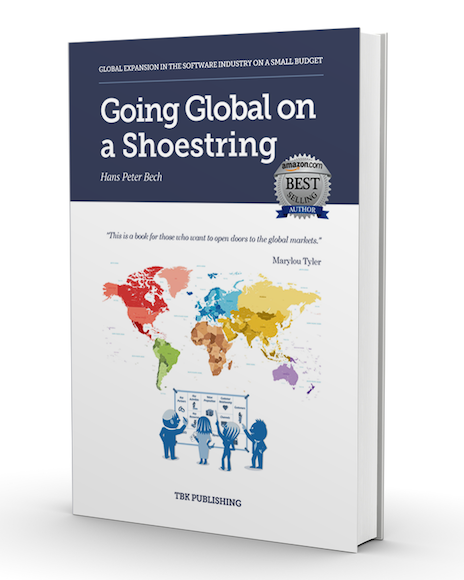 I came across BMoreRaw when writing the book Going Global on a Shoestring, but unfortunately too late in the process to include them in the first edition.
Their process could be a very suitable shoestring approach for testing a value proposition in a foreign market.
"We are happy to undertake product/market verification in other countries as well," confirms Stefan Avivson. "We find the resources that can do the job and ensure that they use our method and tools. Our approach is probably the most cost effective way to do a market analysis since we get the feedback directly from potential customers. We can at least verify whether a company's value proposition is attractive to the same type of customers in another country. If this is not the case, then we will also check what it will take to achieve a match."
Lead generation in Scandinavia
Agency360 (for agencies) and Evolution360 (for companies) provide marketing software that accumulates data and analyses about SEO, online advertising and social media activities and presents them in easy-to-understand dashboards. Also, the software converts the visitors' IP addresses into company names, which, in a B2B context, can be used for outbound sales purposes.
"We use BMoreRaw to optimise our value proposition and to generate new leads," says Henrik Kristiansen, partner and co-founder of the company. "They first call our existing customers and find out why they chose our solution, what they particularly appreciate and what they would like added. Based on that insight, they formulate the information to be used when contacting potential customers."
For lead generation, BMoreRaw gets a list of company names and phone numbers. Then they call them, identify the relevant contact person and find out if there is interest in the Agencey360/Evolution360 solutions.
"The primary goal is to get a potential customer to visit our website and sign up for a free trial subscription," says Henrik Kristiansen. "The secondary goal is to get the lead to participate in a web meeting. If we cannot achieve one of the two options, we will try to arrange a follow-up at a later date."
With BMoreRaw's approach, Evolution360 achieves a fifty per cent hit rate, which, according to Henrik Kristiansen, is remarkably high. Also, they get valuable feedback from the leads that have no immediate interest. Overall, BMoreRaw has managed to get through and have a useful conversation with approximately 90 per cent of the leads they call.
"I have worked with telesales for many years, and must admit that the BMoreRaw approach is different and much more effective," concludes Henrik Kristiansen. "Their dialogue with our existing customers provides valuable input for making the messages to potential customers shorter and sharper. They are substantially more effective at getting through to the relevant people and having a fruitful conversation. A hit rate of 50 per cent of the goals we set is very satisfactory."
Out of a total potential of around 5,000 leads in Denmark and Norway, BMoreRaw has so far completed two hundred calls. Shortly, Evolution360 will launch a similar activity in the Swedish market, where the potential is also estimated to be around 5,000 customers.
"We continuously optimise the three pitches that we use during the activity," says Henrik Kristiansen. "Although the customers' needs are identical, the market conditions are not the same in the three countries, which is why we may have to use a different presentation. When we have finished penetrating Sweden, we will take a look at some of the major markets south of the border."
Internal clarification and alignment
Nordic Innovators P/S is a consulting company that helps their clients apply for funding for research, development and innovation projects. The customers are private and public companies, universities, colleges and research institutions. Since October 2013, Nordic Innovators has grown to over fifty employees and has activities in Denmark, Norway, Spain and France.
"Growing from two to over fifty employees in seven years is not without its challenges," says Kenneth Junge Hermansen, partner and co-founder. "My associate, Henrik Kemp, and I are entrepreneurs with a focus on the client and delivery side of the business. The internal management and organisational issues came second. We, therefore, decided to take a break, review internal processes and measure employee satisfaction. We wanted to make sure that the organisational energy pointed in the same direction and that we fixed some of the issues that Henrik and I had neglected."
To assess employee satisfaction and understand how they saw the company's strengths and weaknesses, Nordic Innovators engaged BMoreRaw to run an internal survey. In parallel, they conducted similar surveys among customers in Denmark and Norway. That way, they could compare internal and external perceptions.
"The advantage of using BMoreRaw is their ultra-short and simple questionnaire, which still manages to illustrate the difference between what we want to be and how we are perceived," says Kenneth Junge Hermansen. "With a very reasonable investment, we have identified several adjustments to both our organisation, management structure and the way we position ourselves vis-à-vis the market."
Nordic Innovators plans to perform a new round of interviews with existing customers to measure the effectiveness of the initiatives and to make their positioning statements even sharper.
"Even though we are in a very competitive market," explains Kenneth Junge Hermansen, "we have never been particularly proactive in our sales work. We do not even have a sales department. We have enjoyed word of mouth marketing which has been sufficient to support our growth. With increased growth ambitions, we must ensure an increased influx of projects. We are considering making BMoreRaw responsible for lead generation, where we take over when potential customers express interest."
Why do customers buy?
Running a traditional sales department is difficult and expensive. Salespeople are individualists, and each has her preferred process for dealing with potential customers. Across a sales department, the exchange of information between the salesperson and the potential customer is typically inconsistent, analogue and asynchronous.
Swedish GetAccept, which offers a software platform for digitisation and optimisation of the sales process, has been operating in Denmark since 2018. Where the company is the market leader in Sweden, they have to start in the Danish market from scratch.
"Our go-to-market approach is primarily outbound," says sales director Peter Haahr Rasmussen. "We call the potential customers, uncover the interest and get a sales process started. Of course, we take our own medicine, which means that we also need to continuously ensure that we sell to the right customers and that we use statements that the customers find important."
Therefore, Peter Haahr Rasmussen engaged BMoreRaw to contact the existing customers and get them to reveal the main reasons why they had chosen the solution. The feedback was to be used to make market segmentation more precise and to make the initial conversations with new customers more effective.
"We got answers to our questions, but we got a lot more than that," explains Peter Haahr Rasmussen. "It turned out that many of our customers had a harder time getting started than we expected. Using a product such as GetAccept requires the introduction of a new way of working in the sales department, the implementation of a document repository that supports the process and training of the staff. Everything must be in place. Otherwise, you will not get full value from the platform."
With the newfound insight, GetAccept re-engineered its customer success processes and reassessed which types of customers derived most value from the solution. We often assume that it is the largest customers that have the resources to become the first to implement digital solutions, but this is not the case. It is more a matter of attitude, including willingness and the ability to implement organisational and behavioural changes. GetAccept's platform represents a new digital approach to sales, and it is, therefore, subject to the law on the dissemination of innovations.
"The Covid-19 situation has intensified the awareness of and the need for digitisation of sales processes," emphasises Peter Haahr Rasmussen. "When the salespeople cannot visit the customers, and they each have to work from home, there is automatically a need to rethink several issues. Where the mainstream market probably would have waited a while with digitalisation of their sales processes, the situation has forced them back to the drawing board. In this way, the pandemic has increased both the interest and the need for a solution like ours."