Sales is Not a Dead Profession – it Has Just Changed Quite a Bit
I subscribe to around ten newsletters and one of them comes from Tomasz Tunguz from Redpoint who writes regularly about the SaaS industry.
In his newsletter from 25 March 2015 he recommends Mark Roberge's The Sales Acceleration Formula as the best book on SaaS sales. As I consult for several SaaS companies I rushed over to Amazon and got my Kindle copy and turned the last page Wednesday last week. Mark's book is nothing less but brilliant.
Mark is the Chief Revenue Officer at Hubspot and the book is valuable because it explains the entire journey from the very start to now what is a multi-layered sales organization with over 400 people.
If you are into SaaS sales (or any other B2B sales activity) this book is a must read and each day you procrastinate about reading the book will be a day of lost opportunities.
It is about the customer first and about us in that specific context!
Some of the principles are not new, but still widely unimplemented in most sales organizations. Sales people need to understand the business of their customers first and then how to help the customer in her specific situation. I learned this principle when I started in sales in 1980, but even today I meet sales people diving in with company and generic product presentations first consuming all the oxygen in the room.
In a SaaS context where the [slider title="CAC/CLV"] Customer Acquisition/Customer Lifetime Value  [/slider] ratio is always a huge challenge there is less time available for the discovery process so the sales reps need to lead with discovery first. Mark explains how a new type of relationship with marketing can help ensure that sales time is spent on the most qualified leads and at the best possible time.
Cold calling, direct mail, trade shows and display advertising is dead
At Hubspot, marketing is responsible for lead generation and sales is responsible for developing, closing and keeping the customers. Cold calling, direct mail, trade shows and display advertising as means for generating leads was never even considered at Hubspot.
Now that may not be such a big surprise as Hubspot is a company that focuses on helping others with platforms for generating inbound leads, but when Hubspot started only very few marketers (their primary buyers) understood what they were talking about. Mark actually delivers a convincing pitch on why the tide has turned, and I fully agree with him. At least in a SaaS context the question is "how can customers who need what we have find (and engage) with us?" and much less "how can we find customers who need what we have?"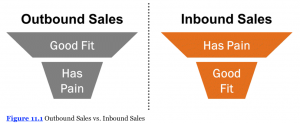 He has a very nice illustration of the difference between outbound and inbound marketing and how to manage the challenges associated with the inbound approach.
I can highly recommend the book and as I wrote in my review on Amazon:
"…but as most CEOs and SVPs will not read this book the rest of us can enjoy the great insight and practical advice provided."
A surprisingly large number of senior (sales) executives do not read many books. If you only read two books this year The Sales Acceleration Formula should be one of them.
The other one should be my new book: Building Successful Partner Channels
Free bi-weekly e-journal
Please sign up for my free biweekly e-journal with with two to three hand picked posts that will put you a step ahead in the race for global market leadership.