Funding in Software for Health Administration Hits All Time High
The third quarter of 2015 saw $514.3 million invested in privately held companies offering health-care administration software, the highest single-quarter total for the sector since tracking totals began in 1992.
It is estimated by the end of 2015 that investment in the US health care sector software will reach over $1.18 billion.
Nuritas Ltd. has raised 2.8 million euros ($3.1 million) in seed funding to discover, extract, predict and prove the health benefits of active peptides found in natural foods. Singapore-based New Protein Capital led the investment. It was joined by angel investor and environmental activist Ali Partovi and other undisclosed individual investors.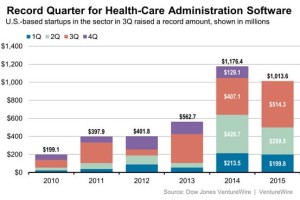 Sequana Medical AG has added 9 million Swiss francs ($9.2 million) to its Series C round to run U.S. clinical trials and to expand its technology into cardiology. The capital adds to a CHF23 million Series C financing the Swiss company disclosed in April 2014. New investors Salus Partners and Quest for Growth QFG.BT 0.00% joined return backers Biomed Invest, Capricorn Health-tech Fund, Entrepreneurs Fund, Life Science Partners, NeoMed Management and VI Partners in the financing.
Medical software companies build and deliver products, systems, services or solutions within health centres, hospitals, day & palliative care centres, among others. Medical software companies will provide systems for medical record keeping, practice management, content management & hospital management. They may also provide software to operate medical devices or instruments or for research and analysis.
eClinicalWorks are expanding into the UK market, with eye-care provider services Specsavers, as well as plans to grow in the acute care market in the US. eClinicalWorks has an established customer base of more than 115,000 providers worldwide. It's a privately held company that recently invested $75 million into its patient engagement subsidiary, and reported revenue of $333 million in 2014, up from $270 million in 2013.
With the introduction of the Affordable Health Care Act in the US, software companies there that provide health care solutions are targetting insurance companies and HR departments, aiming to show how benefits can be delivered to small and mid-sized companies.
Omada Health, a San Francisco based start-up, landed $48 million in new funding earlier in the year and plans to have "hundreds of thousands" of health plan users signed up to its digital based health care services in 2016. Omada Health sell their chronic disease support software, Prevent, to large health insurance companies and employers.
Data provided by WSJ The Daily Startup