When the objective is global market leadership
Özlem Turhan is a serial entrepreneur based in Istanbul, Turkey. Together with her husband Ömer Turhan she started Workcube in 2001 and made it into one of the leading players in the market for ERM (Enterprise Resource Management) systems in Turkey and other countries in the Middle East.
Running a company in a partnership with your spouse is not easy and in 2014 Özlem decided to leave the leadership reins of Workcube to Ömer in order to pursue new ventures herself.
She didn't know what type of business she should start, but she had two criteria that any new venture should satisfy:
The business should be able to grow to global market leadership.
The business should be able to reach global market leadership without requiring in-the-field sales resources.
Global Market Leadership
Özlem, who was a student in one of my classes on business development training for Turkish information technology executives, understands that the market for information technology solutions is global and doesn't leave much room for small local players. The transparency of the Internet and the ambitions of today's information technology startups will make life very tough for companies that fail to grow outside their domestic markets. The winner takes it all and if you grow slower than the global market and slower than your global competitors, then they will soon come knocking on the door to your domestic market, hire your people, talk to your customers and make your life difficult.
Having started a company in Turkey and having made it successful also stimulated Özlem's ambition for proving that she could create a global success.
A distaste for managing in-the-field sales resources
There is nothing wrong with business models that require in-the-field sales people, but Özlem didn't want to create and lead a company that requires such resources. It's partly related to the difficulty of scaling fast but also related to a dislike for managing this level of complexity.
Getting the business idea
Leaving Workcube Özlem knew that she needed a process for identifying the potential business ideas for her next venture, but before she even started brainstorming with herself the idea came to her.
Özlem is a mother of three children. Running a company, being active in the Turkish business community, being a wife and being a mother of three had made her a specialist in complex parent-ship. She knew how difficult it was to juggle all her responsibilities and make sure that all her obligations were taken well care of, especially that her kids were happy and doing well in school.
One evening she came to think of the archaic ways that the collaboration and communication with her children's teachers took place. Messages were relayed verbally through the kids or through handwritten notes. Managing sudden changes and emergencies required individual phone calls. Communication with other parents was very limited and getting a feeling for what happened in her children's school-life was restricted to what her kids would convey to her. Not very much and not very consistent. Why didn't we use information technology to ease and improve the collaboration? Sharing a web-based social media platform would make communication much easier, would make school life much more transparent, and could only strengthen the teacher-student-parent relationship. It would be in everybody's interest.
She did a little research and found a number of solutions, but only a few were available in Turkey. She didn't find any dominating global market leaders, she didn't find anything that indicated that this was rocket science and thought that this could be an opportunity for her.
Starting Classloom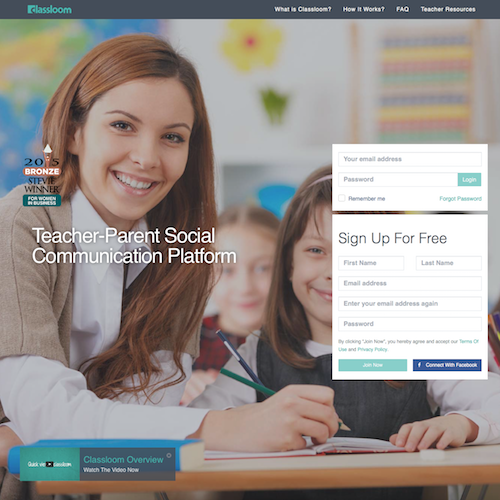 Özlem is an entrepreneur. She wants to move fast and has a relaxed relationship to risk. She is not reckless, but has a strong urge for action. Instead of spending months doing market research and writing business plans she developed a web based collaboration platform, developed a web site and blog and launched her business. Classloom was born.
Without doing any outbound marketing activities teachers from all over the world found Classloom and started to use the platform for free. The teachers using Classloom started providing feedback with ideas for improvement and along with improvements in the platform, with more content on the blog and increased social media activities more teachers found the platform and signed up.
Monetizing
Özlem decided from the start that the teacher-parent-student collaboration part of Classroom should be free of charge. Improved teacher-parent-student collaboration is extremely valuable, but this value would be very hard to monetize by asking teachers, parents or students to pay. Revenue would have to come from other sources where clear business value could be identified.
After having passed 10.000 users schools started to reach out to her asking for functionality related to more formal class and school collaboration, administration and management tasks. Companies with community type businesses that had seen Classloom started to call asking for specific solutions for their businesses.
Özlem is now facing the challenge of deciding which route to take Classloom.
Technology is horizontal
Although Classloom was developed specifically for teacher-parent-student collaboration it is obvious that the technology can be used in many other community collaboration situations, too.
Shall Classloom remain an Edtech solution or should she pursue other verticals? Shall she drive Classloom to become a technology platform company leaving the verticalization and customization to value added resellers and systems integrators?
She is in the middle of these considerations, which also includes deciding if her growth to global market leadership will require external funding.
Stay tuned and I'll keep you posted on her progress.
Related content: Using IT to improve parent-teacher-student communication