The Fast-track to Global Markets
---
A virtual company is usually the term used for businesses that do not have a physical presence. You can buy from them and sell to them, but you cannot ask for a meeting at their offices because they don't have one.
---
Numerous software and e-commerce companies operate in a virtual mode with people scattered all over the globe and with their web presence as the only customer-facing manifestation. Basecamp and Automattic (the company behind WordPress) are some of the more prominent examples of virtual companies. XINK, one of the case stories in my new book, Going Global on a Shoestring, is also an entirely virtual company.
With the rapidly declining cost of voice and data communication through the Internet and with the availability of business management and collaboration software offered as a service from the cloud, setting up and running a virtual business has never been easier and financially more attractive.
There are now also dedicated platforms available for setting up and supporting virtual companies. An example is XOLO that takes advantage of Estonian e-citizenship. XOLO allows you to set up a company in Estonia and run your business from there, although you physically remain in your home office in Sankt Georgen in Schwarzwald or Leavenworth in the state of Washington (just two examples of places that are quite remote but also extremely picturesque) or you are a digital nomad on the road exploring the world. XOLO then provides banking (through Transferwise), invoicing, bookkeeping and tax reporting services. Applications such as Basecamp, Atlassian, Google Apps, Microsoft Teams, Slack and others are designed to help people work together while physically apart. Skype, WebEx, Zoom, TeamViewer, FreeConferenceCall, Google Meet and similar platforms enable online meetings and demos.
A huge cost advantage, but what about innovation?
The cost advantage of not having to have offices is easy to understand. Just the possibility of working without the need to commute saves people hours every day. The benefits of not having to meet physically with customers are also easy to grasp. You can have many more customer meetings per day if you do not have to travel. You can have coaches listening in or record your conversations and analyse them afterwards. An option that is not feasible with physical meetings.
The challenge is how you can innovate, work effectively together, learn from each other and perform consistently when your people are not physically together. That subject is beyond the scope of my recent book but reading the literature it seems that entrepreneurs that decide to take this path also find out how to make it work.
The people behind XINK did not set out to create a virtual company, but as the business grew, they realised their distaste for management, and especially for sales management. They also felt the pressure of having to feed people on the payroll. The solution was to operate as a virtual company where everybody, including the founders, is a freelancer. They have even found a way to engage new team members without having to meet with them face-to-face first.
Reducing management overhead
By employing or engaging people that prefer working remotely instead of going to an office every day, it seems as though companies can also reduce management overheads. People management accounts for 10-20 per cent of total OPEX in most companies. That's a significant expense line in the P&L. The COVID-19 situation that, as I wrote this book, was reaching its peak will expose millions of people to working virtually. As we come out of the crisis, some of that experience will support the creation of new virtual teams, more remote working and more virtual companies.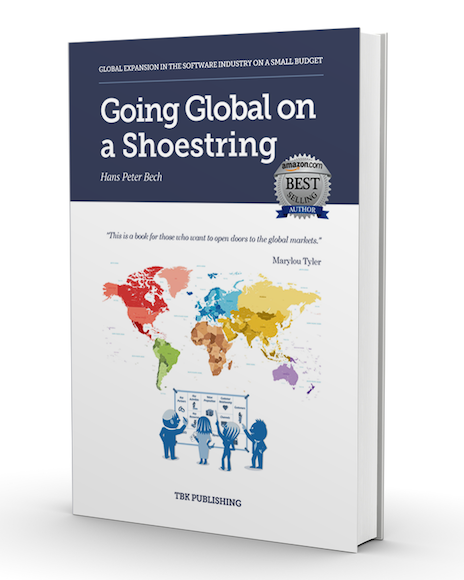 In the context of the book, I use the term virtual company for a business model and especially a value proposition, where enough customers will buy and use your product irrespective of where you are located and without the need for any physical face-to-face interaction. All pre- and post-sales communication can be done electronically, and your customers either don't care about where you are physically located, or they see no major disadvantage associated with your remoteness. As a virtual business, you do not need an outside salesforce.
Whether or not you operate the back-office of your business model physically or virtually is not the main criteria here. If your customers couldn't care less about where you are located and how you operate your front- and back-office, then you can run as a virtual company.
With a virtual business model, you do not need to meet physically, face-to-face with your leads, prospects and customers.
If your customers don't care where you are located, and you don't need to show up in person to complete the sale and provide support, then you also have the opportunity of serving customers in foreign countries without the need for a local presence. That is an enormous advantage if you want to go global on a shoestring.
---
This post is an excerpt from the book Going Global on a Shoestring