Solvoyo – Supply Chain Optimisation
---
Solvoyo has made substantial investments in a very informative website and a large portfolio of content marketing assets. Hubspot has been implemented to support lead capture, nurture and qualification.
---
Have you ever wondered how the supermarket can always have all the goods on your shopping list? Well, maybe not always, but then at least almost always. A supermarket has around 50,000 SKUs (1) of which some are bought by many customers every day and others only by some, sometimes. While clothing may carry a ten per cent profit margin, gourmet foodstuffs deliver around five and non-food items much less. Having what you need while keeping costs down is the holy grail of the FMCG (2) industries. So how can the retailers, the wholesalers, the manufacturers and all the other players in the FMCG supply chains keep their costs down and still make sure to stock what you need when you need it? That's the domain of supply chain planning.
The rapid growth of the Internet and consumers' gradual acceptance of e-commerce has increased the complexity of the supply chain issues for all FMCG companies. Not least, Amazon's aggressive global expansion has changed the playing field.
The customer problem
How to produce what when, how much to store where and how to deliver it to the next link in the chain to finally match the demand in the retail end, is what supply chain management is all about.
Matching demand and supply correctly requires a simulation model that incorporates all elements of the supply chain, considers seasonal variations, adjusts for trends and promotional marketing activities as well using situational data from the POS-systems (3) at the end of the line. The outcome should be a plan detailing what to produce when, where to stock it and how to deliver it.
"The primary challenge for most companies is the lack of a single and coherent planning model," explains Nilüfer Durak, COO with Solvoyo. "Having separate planning and optimisation tools for each functional area of the supply chain is still very common across the FMCG industries."
Solvoyo
Solvoyo, a supply chain planning and analytics software company headquartered in Boston, MA, USA with R&D facilities in Istanbul, Turkey, has specialised in cross-functional planning solutions delivered in a cloud-based SaaS format.
"Supply chain planning is a computational challenge," says Nilüfer Durak. "The more interdependencies you can include, the more data you can process and the faster it runs, the better results you get."
Solvoyo's supply chain software uses advanced technologies such as big-data analytic tools that employ sophisticated algorithms and machine learning to aggregate and dissect data. The value proposition is making smarter and faster supply chain decisions by using the latest information technology to tightly couple planning and optimisation with execution management systems. Solvoyo claims to offer speedier implementation and a quicker and higher return on investment than any competitive solutions.
"Our software produces insights to empower supply chain managers to make better supply chain decisions," claims Nilüfer Durak. "We typically reduce inventory with up to 25 per cent and transportation cost with up to thirty per cent, increase on-time fulfilment & availability with up to sixty per cent resulting in an overall EBITDA improvement in the range of one to five per cent."
Getting these results requires that the customer is prepared to reorganise the way she performs supply chain planning and that has turned out to be the biggest hurdle. With an average implementation time from initial data collection to go-live of less than 90 days and a payback period average of less than 3 months, with not a single case over 6 months, such a decision should be appealing for C-level executives.
The delivery format is cloud-based software-as-a-service subscriptions with onboarding services (integration and implementation) charged on a time and material basis. Onboarding amounts to approximately sixty per cent of the first-year subscription fee. The AACR (4) is $240,000 and the average sales cycle that used to be 18 months has fallen to nine months.
The early mover dilemma
Solvoyo started in 2005 as a supply chain consulting company and released the first version of its software product, Elevation, in 2011. The approach of optimising across multiple organisational silos was new to the industry, and the large enterprise-type of customers that they pitched to were reluctant to engage. However, after the early innovators at Home Depot and Schneider decided to use the software, venture capitalists approached Solvoyo, and the first round of funding aimed at scaling the company was completed in 2014.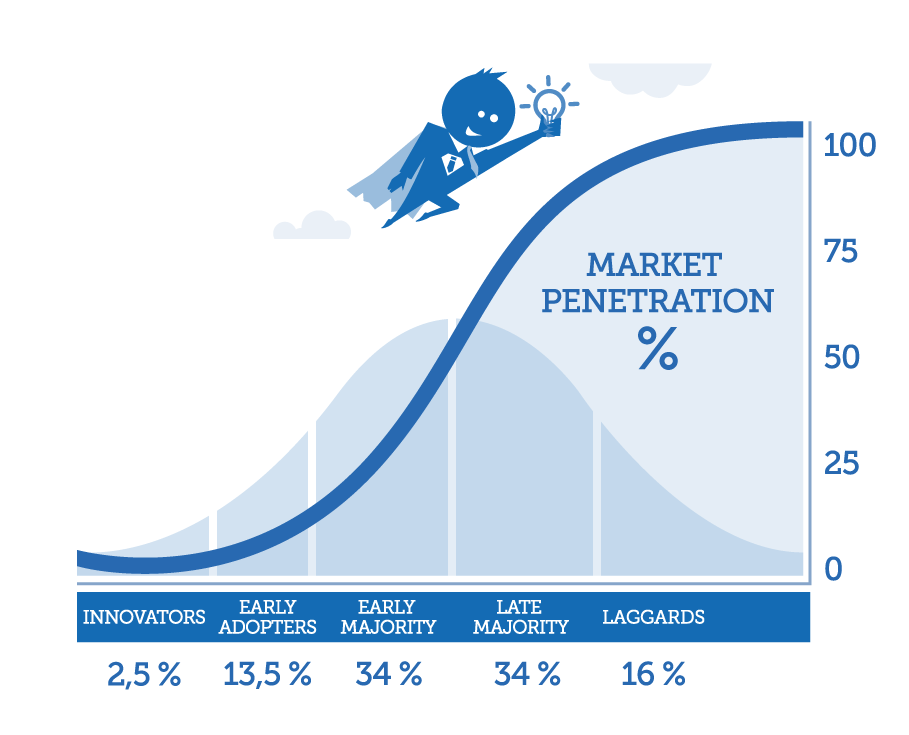 Assuming that the market had now matured, Solvoyo engaged a team of experienced industry software sales executives to build and manage the revenue generation process. This model didn't work. The experience with selling high-priced supply chain software projects with prepaid perpetual licenses and substantial implementation projects was not a good match for a value proposition which has a lean implementation approach and smaller, but recurring monthly subscription fees.
Salespeople with SaaS experience now replaced the industry sales executives, but this approach didn't work either. Customers preferred to have conversations with representatives that mastered the domain jargon, quickly understood their challenges and could engage in solution-oriented dialogue.
It was not easy to pinpoint precisely why the two revenue generation approaches didn't work. Lack of market maturity may have played a role. Nevertheless, the company could not afford to experiment forever, and in 2016 it decided to switch to an inbound approach without a dedicated team for new revenue generation.
In the meantime, the market did mature, and the Solvoyo name became recognised in the market. More and more potential customers identified the need for new ways to optimise their supply chains and realised that the innovative rush might not come from the incumbents. They invited Solvoyo to Shark Tank type beauty contests, which lead to smaller pilot projects followed by large-scale rollouts. Winning a supply chain management project with one of the largest global CPG (5) companies was the result of such a customer initiative.
Internationalisation
The go-to-market approach is now predominantly direct, relying on inbound lead generation and using the customer success team for sales development and sales.
"In an effort to sign up the Microsoft Dynamics AX channel we shifted to Azure", says Nilüfer Durak. "Theoretically Elevation and AX should be the perfect match, but in practice, it didn't work. Selling SaaS solutions combined with short and lean implementation projects through the classic ERP (6) channel seems to be a difficult task."
Solvoyo is open to developing partnerships and believe they have an attractive partner value proposition, but they do not plan to invest in outbound recruitment activities for the time being.
Fifty per cent of Solvoyos revenue is generated in North America, while fifty per cent is generated elsewhere, primarily in Turkey, which the company consider as their test market.
"The market for cross-sectional supply chain optimisation using sophisticated information technology is finally taking off," says Nilüfer Durak, "Interest is growing from the upper layers of the SMB market, too. We have an increasing stream of inbound leads that keep us busy. We will continue with this approach."
Solvoyo has made substantial investments in a very informative web-site and a large portfolio of content marketing assets. Hubspot has been implemented to support lead capture, nurture and qualification.
"Inbound lead generation has several advantages," Nilüfer Durak concludes. "Leads are much better qualified, and they are closer to making a decision. We basically don't need traditional salespeople to close the deals, which makes the model easier to scale."
Notes
(1) SKU: SKU (pronounced "skew"), short for stock keeping unit, is used by retailers to identify and track its inventory, or stock. An SKU is a unique code consisting of letters and numbers that identify characteristics of each product, such as manufacturer, brand, style, colour, and size. Source:
(2) FMCG: Fast-Moving Consumer Goods are the largest segment of consumer goods. They fall into the nondurable category, as they are consumed immediately and have a short shelf life.
(3) POS: Point of Sale. Electronic POS software systems streamline retail operations by automating the transaction process and tracking important sales data. Basic systems include an electronic cash register and software to coordinate data collected from daily purchases. Retailers can increase functionality by installing a network of data-capture devices, including card readers and barcode scanners.
(4) AACR: Average Annual Customer Revenue.
(5) CPG: Consumer Packaged Goods
(6) ERP: Enterpris eResource Planning
---
This post is an excerpt from my upcoming book Going Global on a Shoestring.