New Book on International Business Development
---
Going Global on a Shoestring is a collection of ideas for experiments that you can try out without risking that the foundation under your company goes up in smoke. The book does not deal with the ambition to conquer the world. Rather, it's more about how to learn to walk before you can run. After which you can decide if you should go for the Country, Regional and World Championships.
---
Today, Going Global on a Shoestring, a book I have been working on for many years, has finally been published. It has taken over forty years, I could rightly claim. My first experience with international business development, which is also mentioned in the book, dates back to July 1979. It was in Saudi Arabia. Since then, I have visited most corners of the world to sell them Danish software. Not that Danish software is any better than software from other countries. It just happens that I am Danish and have decided to remain so.
How do you get inspiration for writing a book?
In my time as an operational executive responsible for international business development, marketing and sales, I tried and tested many approaches. Some worked and some didn't. From my years as a management consultant working with clients on the same challenges, I had accumulated a vast repository of things you can do and things you shouldn't do. I had plenty of material.
The idea to write a book about international business development arose in 2014 when I was invited to run a series of workshops on the same subject at the Sabanci University in Istanbul. Here, in two days, I was to give 100 top managers in Turkish software companies the recipe for how – with modest effort and investment – you could win customers in foreign markets. The managers were divided into two groups of 50 and then into 5 teams of 10 when working with specific cases. The course material, and not least the case stories, proved to be popular among the participants. On the basis of that material, I didn't have to start a book project from scratch.
Things take time and coincidences play a crucial role
It took six years to write the book, because I decided to write another book first: Building Successful Partner Channels. In addition to workshops in international business development, I also run workshops on how to build partner channels. That that book came first was the result of flipping a coin. The Queen won. The channel book was published on April 1, 2015 (not a well-chosen date) and instantly became an international bestseller.
At the same time, I happened to get the opportunity to get really close to Erik and Preben Damgaard, which resulted in the book From Damgaard to Microsoft, published in Danish on September 1, 2017. Writing a business biography turned out to be a monster project, as I also had it translated into English. It was released in June 2018 under the title 5,460 Miles from Silicon Valley; that also topped the bestseller list in its category. In my own opinion, that is the best book I have written to date, but my readers do not agree with that. The channel book still sells far better than the Damgaard story. The swings and roundabouts principle also applies to authors!
Time is not something you have, it is something you are given
After the English edition of the Microsoft book hit the market, I was flooded with inquiries for keynote speeches, workshops and consulting assignments. Even though it pays well, it does consume a lot of one's time and energy. The opportunity cost is less time for research and writing. With hindsight, the Covid-19 pandemic came as a gift from heaven. No, of course, I would rather have been without this disaster, but it meant that all my engagements abroad were either cancelled or had to be done virtually. It provided the space in my schedule required to complete the manuscript. I announced a release date and dove in.
There is no recipe for success
When you run an open workshop (with participants from various companies), you cannot work on the attendees' own issues. The participants are reluctant to wash their dirty laundry in public and the remaining participants find other people's problems irrelevant, so start checking out their smartphones for emails. It works much better when using cases where the attendees' level of knowledge is the same, where they do not own the problems and where they are not exposed to potential criticism. The participants, therefore, become management consultants for a while. They analyse the situation, identify missing information and discuss which options they could propose to the company management of the case stories. That works well.
Therefore, I decided that the case element should also play a bigger role in the new book than it did in Building Successful Partner Channels. In addition to four projects, which I myself had been deeply involved in and had the opportunity to share publicly, I interviewed a large number of software executives. This resulted in a further 26 case stories. The book includes 30 case stories that span a very wide area of products and situations and should, therefore, be representative of the software industry.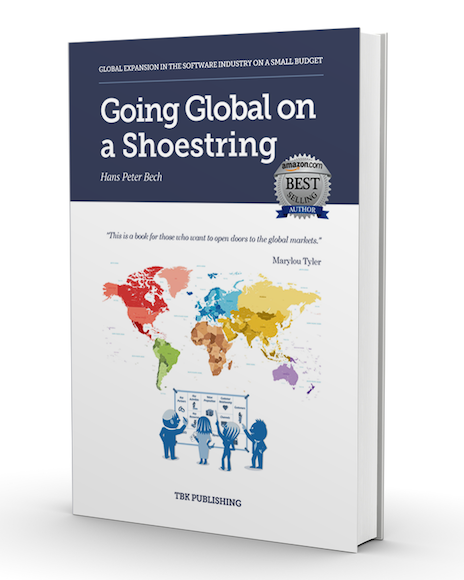 The case stories clearly illustrate how differently companies approach the job of going global and that there is no simple recipe for success. Fortunately, there are ways to initiate small experiments where you, under reasonably controlled conditions, can assess whether they work or not. The book is written for small and midsized companies that have great products but not a lot of money. Therefore, the experiments must be manageable and affordable, because otherwise, they may risk pulling the rug away from under the company. And that actually happens more often than you might think. If you are well funded you can afford to make big mistakes, if you bootstrap you cannot. The book provides a handful of examples.
Going Global on a Shoestring is a collection of ideas for small experiments that you can try out without risking the life and welfare of your company. It is not a book about how to execute on your great ambitions for conquering the world. It's more about how to learn to walk before you can learn to run. Then you can consider whether you should go for the Country, Regional and World Championships. It is the book for those who are about to enter the international markets and for those who are in the process but cannot quite make it work.
How do you get the book?
The book can be bought everywhere, but it is likely that few bookstores will have in stock. Ask for it at your bookstore so they can order it from IngramSpark. Otherwise, there is your local Amazon and the other book portals. You can also ask your local library. If they don't have it, they can order it.
Acknowledgements
Thank you to Nabil Freij and Sérgio Baptista for reviewing the manuscript and offering great suggestions for editorial precisions and improvements.
I also want to thank those that volunteered to tell their stories. They are Mercedes McCoy (Epic), Ashley Gibson (Epic), Jesper Valentin Holm (Agillic), Patrick Hulsen (Cambio, previously Daintel), Morten Steiner (CIO at PFA Pension in Denmark), Gert Bendsen (Edlund), Kasper Lyhr (First Agenda), Dennis Kayser (Forecast), Jonas Vognsen (IT-Minds), Michael Gram (MapsPeople), Johan Holmsten (Monitor ERP), Olaf Hasker (NetDialog), Bo Martinsen (Norriq), Aylin T. Özden (ProManage), Karsten Busck (Pronestor), Odd Magne Vea (RamBase), Rick Pizzoli (Sales Force Europe), Ugne Kontare (Soft4), Allan Thorvaldsen (SoftScan), Nilüfer Durak (Solvoyo), Jesper Theill Eriksen (Templafy), Anders S. Rosenbeck (Tia Technology), Heine Krog Iversen (TimeXtender), Peter Mühlmann (Trustpilot), Per Steen Pedersen (Uniconta), Jesper Frier (XINK), Allan Martinson (XOLO), Niels Henrik Rasmussen (Penneo), Gönül Kamal (YASAD), Øystein Syversen (FotoWare), Benny Holgaard (Shoptech.media) and Christoffer Bjørg Pedersen (Windjammer IT Services). Thank you to Jan Kold (NNIT) for making the connection to Epic.
I have been fortunate to have Melonie Dodaro, author of several books on how to use LinkedIn for marketing and sales purposes, review and make valuable comments to chapter eight.
Grit Neumann, senior online marketing consultant at the German company Ströer, gave me an introduction to SEO.
Gönül Kamali, Gregorio Navarro, Allan Martinson and Pamela Campagna have reviewed the manuscript and offered their pre-publishing comments. I am thankful for their input and endorsements.
A special thank you to Marylou Tyler for writing the foreword. I have been a big fan of Marylou ever since she published her first book, Predictable Revenue, in 2011. I was fortunate to join her for a breakfast-meeting in August 2018, when she did a project for a client in Copenhagen.
Emma Crabtree proofed the manuscript, and Jelena Galkina designed the cover and paginated the printed version. I have worked with Emma and Jelena for years and appreciate their support and patience.